Get Involved

BE/BUY/BOOST™

Representative

Supporter

Cool Merchant

Cool Party


Web Site Launch


Fun and Games


Virtual Game


Music


ID Pack


Photo Shoot


Communicators


Cool Pool


Junior Zone


Volunteer Form


Help Juniors


List of Volunteers


Cool Thinktank


Your Ideas


List of Ideas


Cool Name Game


Printable Form


You Recommend


Official Cool List


s´Cool´s Cool


Application Form


List of Schools


Cool Photo Shoot


Public Displays


Cool History


Around the World


Cool Community


Flood 1997


How you can help


Volunteer BBS


Floodfighters


Donation


T-Shirt


Link Exchange

Get your own Cool Stuff


Phone Card


Ratpad


ID Pack


Needs Canadian Support


Cool Membership


Address Sales


Banner Ads


Sponsorship


Service Donations


Hot and Cool List


Cool Supporter


Cool Connection

How, Where you can help | Cool Volunteer Message Board | Floodfighters in ACTION | Donation in Person | Floodfighter T-Shirt | Flood ´97 Link Exchange | Cool to be Canadian at public displays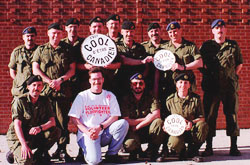 Cool to be Canadian Recognizes Our Volunteers with the exclusive
Cool to be Canadian
VOLUNTEER FLOODFIGHTER T-Shirts
Cool to be Canadian has arranged with the Salvation Army to support "Operation We Care" through VOLUNTEER FLOODFIGHTER t-shirts.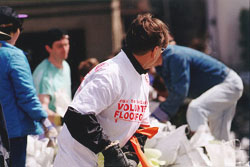 Current Cool to be Canadian volunteers have purchased their own shirts, and the Salvation Army will accept a donation devoted to printing up t-shirts for their 6,000 volunteers...
In discussions with the Salvation Army, we would like to give a free Cool to be Canadian Volunteer Floodfighter t-shirt to as many of the Salvation Army volunteers as possible, but we don't have the funds to produce them.
If your company or organization wants to RECOGNIZE the selfless efforts of the Salvation Army volunteers as well as the thousands of other Cool Canadian volunteers in Southern Manitoba, you CAN help...
contact The Salvation Army or Cool to be Canadian and help us print up enough t-shirts to go around.
For those of you who already have your t-shirts.. (through donations or as Cool to be Canadian volunteers) Here's how to get the MOST out of your FLOODFIGHTER shirt!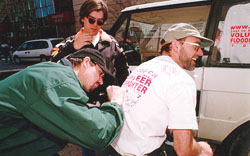 SUGGESTION: Personalize your t-shirt by writing your name across the shoulders with a marker pen... that way your co-volunteers will learn each others names quickly!
ANOTHER SUGGESTION: Have your whole team sign your shirt as a momento of the time you volunteered together fighting the flood of '97.
Cool to be Canadian will also take bulk orders for your company, community group or team that helped out during the flood. Cool to be Canadian will accept completed volunteer sign-ups from your group or company and use them to contact Cool to be Canadian volunteers once shirts are available, and to list Cool to be Canadian volunteers as RECOGNIZED on the world wide website.
Download your
FREE Cool Button
(right click your mouse)





| F.A.Q. | COPYRIGHT | FEEDBACK |

Questions or comments regarding this site? webmaster@cool.ca
Website design, development and management: Perception reEngneering and Design Group.
Copyright 1997 Cool to be Canadian. All rights reserved.
Cool to be Canadian™ is a non-profit, non-partisan corporation.