Cool to be Canadian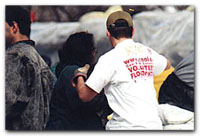 WE NEED MUSCLE OR MONEY
If you are unable to VOLUNTEER during the current flood crisis, please consider supporting those who are defending, transporting, encouraging and feeding the communities of southern Manitoba.

PLEASE SEND COINBAGS OR SANDBAGS
Support Cool to be Canadian / C'est Cool d'etre canadien volunteers, their families and local charities during this time of need.

Our list of Canadians affected by the flood in need is growing daily, feel free to suggest how you want your donation to be directed.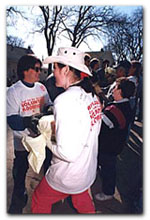 Donations over $100. will receive a Cool to be Canadian VOLUNTEER FLOODFIGHTER t-shirt and be recognized on the website for their contribution. Once you have sent your contribution, please send a confirming email with your name, address and the amount of donation to "coinbags@cool.ca"
Cool to be Canadian gives as much as it can to charity, we are a registered Canadian non-profit organization, whatever is left over after getting this message to you, is given to charity.
Please send a cheque, money order or wire funds immediately to:
ROYAL BANK OF CANADA
COOL TO BE CANADIAN / COOL D'ETRE CANADIEN FLOODFIGHTERS
Account #101-948-8
ROYAL BANK OF CANADA MAIN BRANCH
220 Portage Avenue
Winnipeg, Manitoba
R3C 0A5
**************************
Cool Canadians can also fax their VISA, MASTERCARD or AMEX card number,
name as it appears on card, date of expiry, amount of donation, and full name, address
and signature to Cool to be Canadian FLOODFIGHTERS at (204) 949-0817
**************************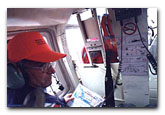 How, Where you can help
Excerpt from the WINNIPEG FREE PRESS, Wednesday, April 23rd 1997

Cool to be Canadian provides the following web links for VOLUNTEERS and those who support them:


If you are able to help fight back the water, email FLOODFIGHTERS@cool.ca, giving us your name, address and phone number.

If you are able to help in another volunteer capacity, email VOLUNTEERS@cool.ca give us your name, address and phone number, and tell us what you will do to help.
---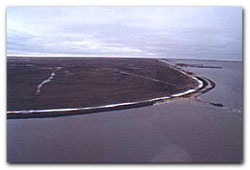 Cool Canadian Volunteers
Floodfighters in ACTION ! ( Photoshoot and name list )
" These are THE COOL CANADIANs that told us where they helped. Thousands more were involved in FLOODFIGHT´97 and the clean-up and each and everyone of them is cool! "
Donations in Person
If you wish to hand your donation money to a real person...
FLOODFIGHTER T-shirt
Register as a Volunteer now.
" Cool to be Canadian is about RECOGNITION... we want to hear from you! "
FLOOD '97 Link Exchange
assess the situation for yourself at these links...
---
Cool to be Canadian is Everywhere!
Cool Volunteers Promoting volunteerism at public displays.
"We now return to our regular programming..."