Cool ID Pack
At Cool to be Canadian we are not looking for handouts... we are as resourceful as the young Canadians we are helping. The Cool ID Pack is an opportunity for Canadian companies to distribute samples of their product to Canadian consumers and help support the efforts of Cool to be Canadian by giving us something to sell. As we say.. we don't want your money, we want YOU! (or your product)
Cool to be Canadian is setting an example for all Canadians, no longer do we rely on government to serve our needs, we are cooperating and providing for ourselves.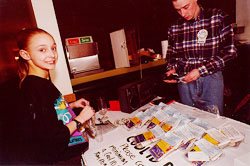 Cool ID packs containing pre-paid telephone cards, gift certificates, chocolates, travel item discounts and other cool stuff were snapped up at the Cool to be Canadian Launch Party. For those who couldn't make it, you can purchase your Cool ID Pack online through the Royal Bank of Canada/shopmix secure transaction system.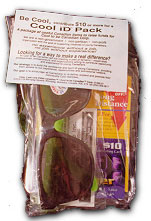 Cool ID Pack
(not exactly as shown, contents may vary, but value always exceeds $10.)
Cool Web Site Launch

Fun and Games


Cool Virtual Reality Game


Cool Music



Cool ID Pack


Cool Photo Shoot


Comments by the many volunteers and contributors present included:

"this is EXACTLY what we should be doing all across Canada... what fun!"

"Promoting Canadian products, Canadian people, Canadian spirit... why didn't we start this years ago?"