How, Where you can help | Cool Volunteer Message Board | Floodfighters in ACTION | Donation in Person | Floodfighter T-Shirt | Flood ´97 Link Exchange | Cool to be Canadian at public displays


Cool to be Canadian
and
The Salvation Army
" Help Us Help Others "
Message from Major Keith F. Hall, Public Relations Director, The Salvation Army, Manitoba Region.
Click the image to see original article


Dear Friends:
The Salvation Army is different things to different people. For some it is the sight and sound of a brass band. For others it is the provision of a hostel for alcoholics or food and clothes for those who find themselves at the bottom of the economic ladder.
The sheer diversity of the Army's operations may be somewhat bewildering. Yet with the diversity, there is also a clear unity of purpose. Salvationists are "people people".
As Christians, they have a strong faith in a God who cares and this leads them to care for others including some of the push-outs and drop-outs of modern society.
Many supporters, who may not share all the Salvationist's beliefs, still share in the caring through their financial support or in some cases their voluntary service.
As Public Relations Director for the Salvation Army in the Province of Manitoba, I would express appreciation to all who Help Us Help Others. When I have personally thanked some of our supporters, they have thanked me for the privilege of helping! That indeed is very moving.
May Salvationists and their many friends continue to work together for the helping of others and the building of a better world.
God Bless you each one.
Yours sincerely,
(Signed)
F. Keith Hall
Major
REGIONAL PUBLIC RELATIONS DIRECTOR-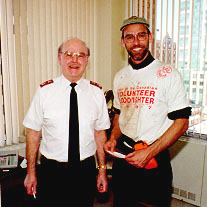 Salvation Army Regional Public Relations Director Major F. Keith Hall and Cool to be Canadian VOLUNTEER FLOODFIGHTER Philip McMaster share ideas to help flood victims and recognize the efforts of the Army's 6,000 volunteers in Manitoba.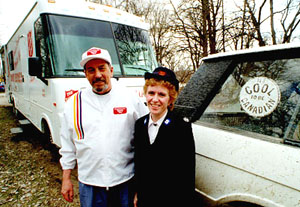 Retired communications employee Neil Childs and Salvationist Kathy Pruden operate the Salvation Army's Community Response Unit.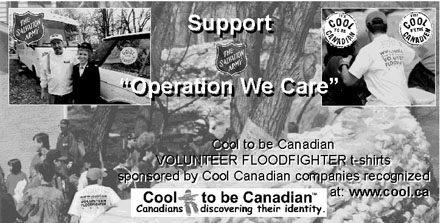 Donations may be made directly to the Salvation Army at branches of the CIBC for " Operation We Care "
or call Polly at (204) 942-9365.