Cool Virtual Reality Game
Young Canadians are playing with virtual reality, creating virtual reality and operating within virtual environments. Virtual Reality is second nature to the new generation of Canadians. As world leaders in VR technology, we thought it was a cool idea to recognize and include Canadians in our launch.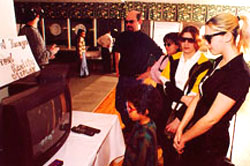 Tony Havelka of Liquid Image joins Cool Canadians as they check out the Tony's Cool Virtual Reality Game.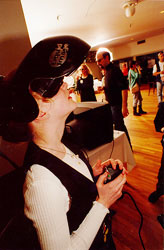 Looking up to a bright future in Virtual Reality Technology, a young Cool Canadian wears the Liquid Image helmet.
Cool Web Site Launch

Fun and Games



Cool Virtual Reality Game


Cool Music


Cool ID Pack


Cool Photo Shoot


Comments by the many volunteers and contributors present included:

"this is EXACTLY what we should be doing all across Canada... what fun!"

"Promoting Canadian products, Canadian people, Canadian spirit... why didn't we start this years ago?"