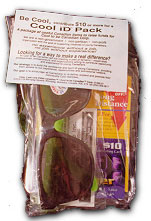 (not exactly as shown, contents may vary, but value always exceeds $10.)
Typical Cool ID Pack Contents
Envelopes of valuable items for Cool Canadians...from Cool Canadians including -
"Cool Experience / Opportunity" Certificates
Cool Travel Products
Discount coupons on cool local products and services
Cool telecommunications services
and other Cool Stuff

Support your local Canadian businesses, entrepreneurs, neighbours and friends... Cool to be Canadian encourages you to buy Canadian made or designed products and services.

SORRY, ONLY CANADIAN COMPANIES ARE PERMITTED TO PARTICIPATE IN COOL ID PACKS.

Cool ID pack supporters and contributors: We thank the initial supporters and contributors to the Cool to be Canadian Launch in Winnipeg for their foresight, faith and imagination:

Aikins, MacAulay & Thorvaldson,

Manglobe Virtual Corporation,

Della Sil Fancy Chocolates,

Elite Aesthetics Plus,

TeleNet Telecom,

The Blender Party Group,

Global Village Travel Store,

Liquid Image,

Miles Gordon Travel,

Explorasport Adventure Coordination Group Inc.

Networkx Computer Gaming Centre and
The Winnipeg Winter Club,

We look forward to the support and future contributions of local and national media,employers, cultural and educational organizations across Canada.
Please fill out this application completely now!