Cool to be Canadian Launch Party
The Cool Clan gathers for the cutting of the traditional Launch Party Cake, accompanied by cool jazz tunes.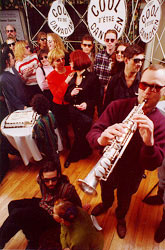 WINNIPEG MANITOBA -
People in Canada's heartland know what it is to be cool. Resourceful individuals from Winnipeg and surrounding areas made it through a winter storm to attend the launch of Cool to be Canadian at the Winnipeg Winter Club.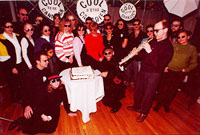 Decked out in their coolest shades- students, parents, business leaders, technology leaders and cool people from all walks of life packed the room. The Cool Photo Shoot was fun, playing the Cool Virtual Reality Display was awesome and the Cool new web site you are now looking at blew away seasoned surfers and observers alike.
What a party without a Cool Cake ?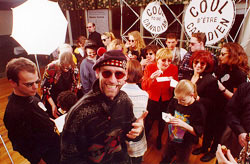 Cool Web Site Launch

Fun and Games


Cool Virtual Reality Game


Cool Music


Cool ID Pack


Cool Photo Shoot


Comments by the many volunteers and contributors present included:

"this is EXACTLY what we should be doing all across Canada... what fun!"

"Promoting Canadian products, Canadian people, Canadian spirit... why didn't we start this years ago?"