Cool Music
There are lots of Cool musicians in Canada. We had one of the Coolest at the launch party. Why not suggest to the Cool musicians in your town that they compose some cool tunes with Cool to be Canadian in mind.. who knows what the results might be... if they promote Cool to be Canadian, who do you think we will highlight?...it could be Cool!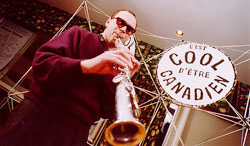 Sasha Boychouk of Saxology Canada contributed his cool tunes via soprano saxophone to the Cool to be Canadian Launch, and has composed a special theme for Cool to be Canadian.
(Click HEAR) Sasha believes that the collective improvisation of the Cool to be Canadian effort is what makes jazz, and Cool to be Canadian exciting and appropriate.
Cool Web Site Launch

Fun and Games


Cool Virtual Reality Game



Cool Music


Cool ID Pack


Cool Photo Shoot


Comments by the many volunteers and contributors present included:

"this is EXACTLY what we should be doing all across Canada... what fun!"

"Promoting Canadian products, Canadian people, Canadian spirit... why didn't we start this years ago?"