Cool Web Site Launch
One of the most important ways to access young people today is through the Internet. We know not everyone has a home account, but you are obviously interested and really wanted to see our web site, so maybe you're visiting us through your school computer, a library, a community access point, a cyber cafe, town hall, a friends computer or some other creative solution. Thanks for making the effort!
To introduce people to our web site, meet those who wanted to volunteer for the COOL POOL and participate in other cool activities the launch party was a great success!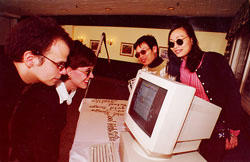 Roy and Tracey check out the Cool new web site at www.cool.ca designed by Steve and Wendy of Perception reEngineering and Design Group.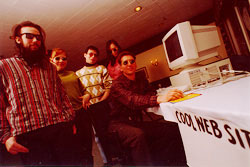 Cool Canadians launching the Cool.ca web site

Cool Web Site Launch

Fun and Games


Cool Virtual Reality Game


Cool Music


Cool ID Pack


Cool Photo Shoot


Comments by the many volunteers and contributors present included:

"this is EXACTLY what we should be doing all across Canada... what fun!"

"Promoting Canadian products, Canadian people, Canadian spirit... why didn't we start this years ago?"