---
Welcome to www.cooltobecanadian.ca
www.cool.ca
the Cool to be Canadian® website.
Corp. c´est cool d´être canadien®



Cool to be Canadian® Corp.


UPDATE - Cool Access project -
The Cool Access project, (the "CA" in Cool.CA and CoolToBeCanadian.CA) seeks to maintain and expand Canadian's leadership position in the global information economy.
---
IT WAS A GREAT 2002!
...and Cool's 10th Anniversary!
(1992-2002)
as well as the 50th for the CBC

See the success of the whole "Cool to be Canadian Family" on July 1st. 2002 in Dorchester Square, Montreal
and our "Celebrity Sunglass Social" check out who wore our CooltobeCanadian "Cool.CA" t-shirts, and walked with us in the CANADA DAY PARADE!

Check out the new CooltobeCanadian.CA "Cool.CA" logos... tell us what you think...

---
"I live in the USA and I am sick of people not giving Canada the credit it deserves."
Ashley, from Kansas
also check out Ashley's new "Canadian @ Heart" site
Can you guess the date? Sir Wilfrid Laurier Speaks
---
RECENT Mentions of "Cool to be Canadian®", "CooltobeCanadian.CA" and "Cool.CA" in the NEWS...
Bill Brownstein of the Montreal Gazette:
"Canadian cool not about weather"
- Opinion on identity
"It's about harmony.
...It's about helping neighbours in distress."
Philip McMaster Thursday, October 10th 2002
Jennifer Lazarus of the prestigious Columbia School of Journalism in New York, USA
Cool to be Canadian in the Calgary Herald
National Post - "Suddenly, it's cool to be Canadian" - March 9, 2002. Jeet Heer, with files from Benjamin Errett
---
Thanks to Cool to be Canadian® contributors Jeremy Bohn and Charlotte McGhee for submitting the significant article below:
---
BE COOL,
Salute to a brave and modest nation
Kevin Myers, The Sunday Telegraph (UK) (21/04/2002)
LONDON - Until the deaths last week of four Canadian soldiers accidentally killed by a U.S. warplane in Afghanistan, probably almost no one outside their home country had been aware that Canadian troops were deployed in the region. And as always, Canada will now bury its dead, just as the rest of the world as always will forget its sacrifice, just as it always forgets nearly everything Canada ever does.
It seems that Canada's historic mission is to come to the selfless aid both of its friends and of complete strangers, and then, once the crisis is over, to be well and truly ignored. Canada is the perpetual wallflower that stands on the edge of the hall, waiting for someone to come and ask her for a dance. A fire breaks out, she risks life and limb to rescue her fellow dance-goers, and suffers serious injuries. But when the hall is repaired and the dancing resumes, there is Canada, the wallflower still, while those she once helped glamorously cavort across the floor, blithely neglecting her yet again.
That is the price Canada pays for sharing the North American continent with the United States, and for being a selfless friend of Britain in two global conflicts. For much of the 20th century, Canada was torn in two different directions: It seemed to be a part of the old world, yet had an address in the new one, and that divided identity ensured that it never fully got the gratitude it deserved.
Yet its purely voluntary contribution to the cause of freedom in two world wars was perhaps the greatest of any democracy. Almost 10% of Canada's entire population of seven million people served in the armed forces during the First World War, and nearly 60,000 died. The great Allied victories of 1918 were spearheaded by Canadian troops, perhaps the most capable soldiers in the entire British order of battle. Canada was repaid for its enormous sacrifice by downright neglect, its unique contribution to victory being absorbed into the popular memory as somehow or other the work of the "British."
The Second World War provided a re-run. The Canadian navy began the war with a half dozen vessels, and ended up policing nearly half of the Atlantic against U-boat attack. More than 120 Canadian warships participated in the Normandy landings, during which 15,000 Canadian soldiers went ashore on D-Day alone. Canada finished the war with the third-largest navy and the fourth-largest air force in the world.
The world thanked Canada with the same sublime indifference as it had the previous time. Canadian participation in the war was acknowledged in film only if it was necessary to give an American actor a part in a campaign in which the United States had clearly not participated-a touching scrupulousness which, of course, Hollywood has since abandoned, as it has any notion of a separate Canadian identity.
So it is a general rule that actors and filmmakers arriving in Hollywood keep their nationality-unless, that is, they are Canadian. Thus Mary Pickford, Walter Huston, Donald Sutherland, Michael J. Fox, William Shatner, Norman Jewison, David Cronenberg and Dan Aykroyd have in the popular perception become American, and Christopher Plummer, British. It is as if, in the very act of becoming famous, a Canadian ceases to be Canadian, unless she is Margaret Atwood, who is as unshakably Canadian as a moose, or Celine Dion, for whom Canada has proved quite unable to find any takers.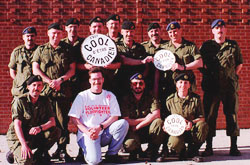 Moreover, Canada is every bit as querulously alert to the achievements of its sons and daughters as the rest of the world is completely unaware of them. The Canadians proudly say of themselves-and are unheard by anyone else-that 1% of the world's population has provided 10% of the world's peacekeeping forces. Canadian soldiers in the past half century have been the greatest peacekeepers on Earth-in 39 missions on UN mandates, and six on non-UN peacekeeping duties, from Vietnam to East Timor, from Sinai to Bosnia.
Yet the only foreign engagement that has entered the popular non-Canadian imagination was the sorry affair in Somalia, in which out-of-control paratroopers murdered two Somali infiltrators. Their regiment was then disbanded in disgrace-a uniquely Canadian act of self-abasement for which, naturally, the Canadians received no international credit. So who today in the United States knows about the stoic and selfless friendship its northern neighbour has given it in Afghanistan? Rather like Cyrano de Bergerac, Canada repeatedly does honourable things for honourable motives, but instead of being thanked for it, it remains something of a figure of fun.
It is the Canadian way, for which Canadians should be proud, yet such honour comes at a high cost. This week, four more grieving Canadian families knew that cost all too tragically well.
.
.
.
Write our troops and tell them it's Cool to be Canadian!
---
MAY 16 2002, Lufthansa German Airlines said Danke Schön to Cool Canadians of Gander and Halifax in an official ceremony held in Frankfurt, Germany.
They were recognized and honoured for their remarkable acts of kindness and generosity extended to Lufthansa passengers and crew who were stranded for days after the September 11 attacks.
---
---
Remember how we felt back in February?
Our great Olympic Athletes are still on our minds...
---
Marc Gagnon Cool Canadian Speed Skater and MOST DECORATED Canadian Winter Olympian!
3 GOLD - 2 BRONZE!
Have you got the hottest, coolest OFFICIAL Cool to be Canadian® stuff?


We Are The Cool Champions! Canadian Womens and Mens' Olympic Hockey GOLD!
Have you got the hottest, coolest OFFICIAL Cool to be Canadian® stuff?

---
A special thanks to honourary "Cool Canadian"
Bob Costas
of NBC Olympic Coverage in Salt Lake City, U.S.A.
for mentioning the "Cool to be Canadian®" spirit in Salt Lake City and inviting you to visit our www.cool.ca website.

ONE GIGANTIC CANADIAN MOMENT!
Millions around the world are more familiar with Cool to be Canadian®!
Here's a DIGITAL VIDEO version of the "Olympic Report on NBC" (broadcast around 8:45 EST Monday Feb. 18) where Bob Costas and Jimmy Roberts discuss how it's Cool to be Canadian® at www.cool.ca !
Thanks to Jon Hirashima of Hawaii (another Honourary Cool Canadian!)

To see more media coverage of Cool to be Canadian® check additions to our Cool FAAX page

.

MEMBERSHIP
Wherever you are in the world, you too can become an honourary "Cool Canadian"!
Membership is $5.yr. for kids - $10 yr. for Teens and Adults and $25.yr. for up to 5 members of the same family.
To register as a Cool to be Canadian® volunteer or simply become a member and purchase "Cool to be Canadian®" stuff...

Send your membership application / donation to:
Cool to be Canadian®
non-profit organization

933 Station H,
Montreal, Quebec
CANADA
H3G 2M9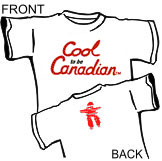 Send us an e-mail to reserve your shirt, and/or purchase on line through the links below
Support the
Cool to be Canadian® non-profit organization by purchasing Cool Canadian Stuff from
OFFICIAL COOL LICENCEES
FEATURED LICENCEE: POLARWARMER.COM





If you have problems finding the items you want, please call the Toll-Free number to order your
OFFICIAL "Cool to be Canadian®" stuff.
Just like the delay in the gold medal awards back in February 2002, patience has its rewards!
Please book-mark www.cool.ca ... and BE COOL!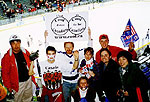 The figure skating judging controversy concluded on Sunday with a second medal ceremony. Yelena Berezhnaya and Anton Sikharulidze of Russia and "Cool to be Canadian" Jamie Sale and David Pelletier shared the Olympic podium -- and the gold -- with gallantry and grace.