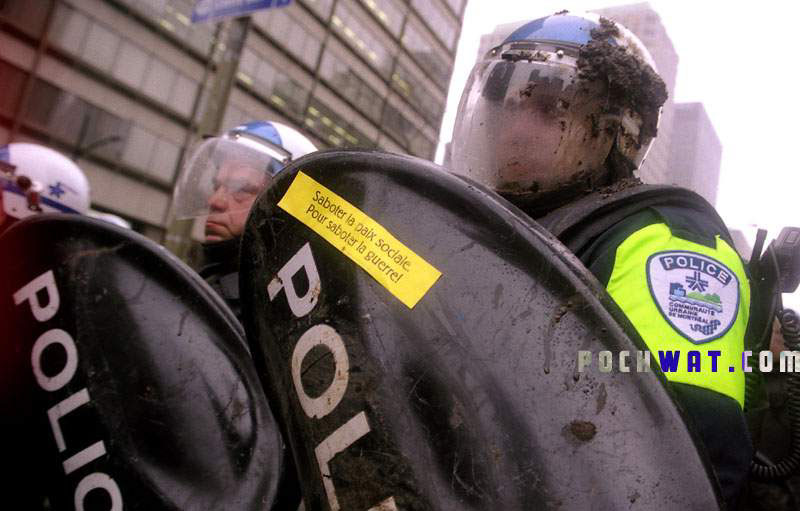 Shock and Awe
Great experiential learning for ESA students, not good PR for Montreal Police.
I am shocked by the lack of judgement in police over-reaction to last weekends peace demonstration, and I'm in awe of the low regard for civil rights and creeping fascism I witnessed first hand over the course of events. The obedience and complacency of Canadian society, media compliance and worry over American opinion of us is simply not cool.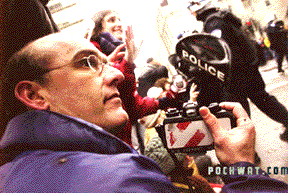 Winning Attitudes
I see relevance, empowerment and adventure in today's civic involvement. In my courses on Public Relations Photography and Event, Sports and Adventure Photography at Dawson College, I teach students young and old to conduct themselves with a sense of self-confidence, not to fear people or authorities, but to adopt a winning attitude of respect for everyone. In my course I teach that as long as you are not hurting someone, or their reputation, the only way to reveal the story is by getting in close to the action. Putting yourself in their shoes. Nothing is accomplished from the sidelines. This form of attitudinal and experiential instruction requires that the students build up the confidence to challenge the official line and solve life's challenges from alternate perspectives. This past weekend revealed to me a new perspective - being injured by the police, arrested and ending up in hospital because I dared to demand the return of property violently knocked off my belt - a compact umbrella.
Intimidation
At a point when Saturday's peace demonstration was winding down, and the riot police had pushed the crowd down the hill from the American Embassy (almost to Bleury), police rushed the crowds hitting photographers and protesters alike with their shields and the butt of their batons. Saving my camera from being struck, my umbrella was knocked to the ground and fell at the feet of a riot cop. Not flexible enough to quickly bend down and pick it up, (plus not wanting to be kicked in the head) I had the audacity to stand up to this aggressive and un-Canadian intimidation by pointing at the umbrella and informing the officer of my desire to pick it up. With a big grin he kicked it behind him, out of reach. I reacted by pointing my arm past the shields and yelling "I want my umbrella back, it is my property and I want it back"… completely unexpectedly, they grabbed my arm, pulled me through the line, twisted, punched, head-butted and knocked me to the ground while I desperately tried to keep them from dirtying my clothes and crushing my glasses.
RESTONS FORT
I lost my umbrella and ended up in hospital. After multiple tests, abdominal CAT scans and morphine for the pain, I was released late Sunday, but the behaviour of a few "bad apple" riot squad members has forever tainted my relationship with our police force as a whole.
We are not at war. This was a peace demonstration. When I was in custody, the inspector interviewing me said "It's a war out there" to which I replied "don't say that… we're in Canada, we're not at war". This slip-of-the-tongue along with overhearing riot squad members saying 'they got a better work-out here then going to the gym' confirm the origin of attitudes that led to the violence on Saturday against protesters and the one photographer I know best.

The police were not arresting violent people who threw things at them, they arrested students sitting in protest and dangerous photographers. I was in Shock and Awe when I saw the photo by one of my ESA students Mike Pochwat of an agonized man trying to keep his glasses from being smashed by the police after he and his camera had been unceremoniously thrown down on the ground - it was me, it could have been you.
Philip McMaster AHSc. MBA
A Canadian adventure photojournalist in Chiapas, China, Guatemala and around the world , founder of Cool to be Canadian volunteers www.cool.ca and instructor of PR & ESA Photography - Continuing Education Department Dawson College www.cool.ca/courses/mcmaster.htm