---
---
---
---
Les pages qui suivent reflètent la vision les opinions d'un étudiant des HEC ...
(Translate this page automatically with Altavista)...
the opinions and vision in the following pages are those of one HEC student.
UPDATE: view the resautage "Global-E" network alliance of the master's progam members, designed to encourage learning and practising networking skills before leaving university.

---
HEC Montréal at a glance: First North American school to hold the three accreditations AACSB international, EQUIS and AMBA. MBA program accredited by the Association of MBAs (UK), offered in English and French, with over 55% international students. Rated as one of the top 10 in the world by the Wall Street Journal in the 2004 edition of the Guide to the Top Buiness Schools and number 10 the 18 best MBA programs outside the United States, according to the MBA 2002 classification by BusinessWeek. http://www.hec.ca
---
---
Français | English | Espanol | Chinese
---
MERCI / Thank-you
de votre confiance / for a year of your support
"Passing the Torch" - the old and new HEC MBA Councils
How HAPPY they are!
Click on photo below to see new HEC MBA President

L'opportunité, les attitudes et la vision pour un "MBA GLOBAL" de haut niveau
The Opportunity, Attitudes Required and Vision for a Relevant "Global" MBA

Philip McMaster, HEC/MBA President 2001 / 2002 - HEC/MBA President 2001 / 2002
---
L'opportunité pour l'unité

En tant qu'étudiant du programme de MBA_HEC, mon but premier est de mettre mon expérience dans le domaine de l'aventure internationale, des consortiums aérospatiaux internationaux et des activités multiculturelles afin d'unifier les différents groupes d'étudiants venant des quatre coins du globe.


The Opportunity for opport"UNITY"
As president of the MBA association at HEC MONTREAL, past experiences in international adventure expeditions, multi-national aerospace consortiums, and cross-cultural activities were used to unite the interesting and diverse group of students.

---
PHOTO: Philip McMaster meeting with
Sheikh Hasher al Maktoum bin Maktoum ,
Director of Dubai Information Department and brother of the Chief Sheikh of Dubai, U.A.E.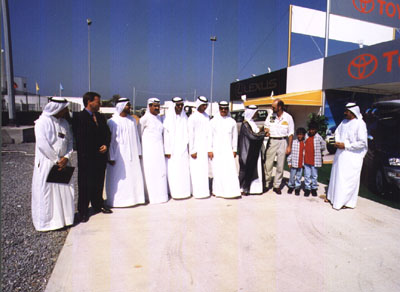 Les attitudes requises
Tout au long de mes voyages, mon atout majeur était cette ouverture d'esprit et le respect de l'autre. Je me suis rendu compte que le progrès social et économique des sociétés où la pensée xénophobique et le nationalisme agressif règnent est rabougri.
Par contre, les sociétés accueillantes et tolérantes progressent tout en bénéficiant de l'apport culturel et social de toutes les constituantes de ladite société.

Attitude Required
In my travels, my most valuable and effective resource has been an attitude of openness and respect. I have discovered that societies where xenophobic closed thinking and aggressive nationalistic attitudes prevail, social and economic progress is stunted. In welcoming and tolerant societies, the opposite is true, and people flourish in the richness of market diversity.

PUBLICATIONS/ARTICLES : Philip McMaster
---
Une vision globale
Au long du programme de MBA intensif, je compte investir temps et efforts dans le but d'échanger des idées, de voir le monde de différents angles et d'établir des relations d'affaires locales, nationales et internationales.
Mon espoir est de pouvoir partager avec vous le sens de l'aventure et de la responsabilité au niveau du programme ainsi que de créer beaucoup d'opportunités pour tout un chacun. J'espère que notre groupe de MBA de cette année mais également les groupes des années à venir bénéficieront de ces opportunités.


Global Vision
During the intensive schedule of the MBA program at HEC in Montreal, I envisioned an unparalelled opportunity to meet and learn from each other, to see the world from many different perspectives, and to establish local and international business connections. I envision our class (2002), the first year group (2001) and those who will follow us will benefit from employment and investment opportunities we ourselves create.

---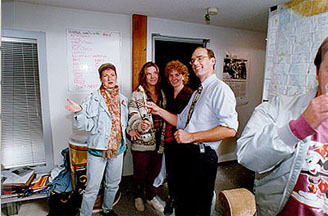 Occasions d'Affaires et de gestion du réseau social
Social Networking Opportunities & "Business Blenders"
UPDATE: As President, Philip McMaster created the resautage "Global-E" network alliance of the master's prorgam members to encourage learning and practising networking skills before leaving university.


PHOTO: Philip McMaster accueille des invités à un de ses " Blender Parties" "Blender Parties", ( voir également ""Blender Brunches") il y a quelques années.

Philip McMaster welcomes guests to one of his " Blender Parties", (see also "Blender Brunches") a few years ago. These specially orchestrated events are designed to be inclusive and memorable for all who attend.

Si supporté pendant le MBA 2002 aux HEC, Philip encouragera un programme de "marieurs d'affaires", donnant aux étudiants une occasion de rencontrer d'autres étudiants ainsi que des hommes d'affaires dans des circonstances plaisantes.

If supported during the MBA 2002 at HEC, Philip will encourage a schedule of "Business Blenders", giving students an opportunity to meet other students and local business people under pleasant, social circumstances. (see: resautage "Global-E" network alliance.

---
D'autres initiatives pour au profit des étudiants locaux et internationaux :
Logement : services prioritaires aux familles et aux individus arrivant de l'étranger pour étudier aux HEC.
Santé : bon rapport coût, quantité et qualité des services de restauration aux HEC. Maitrise du stress (psychologique et physique) .
Etudes : gestion du temps, soutien au niveau des méthodes de travail pour les arrivants au programme de MBA.
Social : cours de soutien informels en Français.

Opportunités d'emploi : grâce au réseau d'affaires.
Other Initiatives to Benefit Both Local and International Students at HEC:
HOUSING (Accommodation) - Priority services to families and individuals arriving to study at HEC from outside Quebec.
HEALTH - Cost, Quantity and Quality of food services at HEC for overworked students. Stress Management (psychological, physical)
STUDIES - Time Management, Study Methods and Computer Equipment preparations for new students.
Cross-Cultural Sensitivity for local and international students and instructors.
SOCIAL - informal French lessons/social exhanges to integrate with the French Quebec University environment of HEC.
EMPLOYMENT OPPORTUNITIES / BUSINESS NETWORKING - It is most important to bring buisiness to the students, (because they have no time to begin a search during the school year)

Thank-you for visiting this page.
Philip would like to hear your ideas on what would make your time invested at HEC most profitable.
Please reply to the e-mail that provided this link, and send your ideas to help yourself and other students get the most out of our HEC/MBA experience.
Paul Desmarais Jr. Chairman, Co-CEO, Power Corporation of Canada • Gerald Tremblay, Mayor of Montreal • Abraham Zaleznick, Professor Emeritus Konosuke Matsushita Professor of Leadership, Harvard Business School • Pierre Laurin, Executive-in-residence, École des HEC • Laurent Lapierre, Pierre-Péladeau Professor of Leadership HEC Montreal • Wen Shizhen, Secretary of Communist Party of China's Liaoning Committee, Chair of Liaoning Provincial Association for International Exchange & Cooperation • Alain Batty, CEO Ford of Canada • Martin Sigman • Guillaume Rivest • Elizabeth Dufour • Jean-Marie Toulouse, Director of Ecole des HEC • Professor Jacques Nantel, HEC • Don Tapscott, • Mrs. Annie R. Dean KABC-TV, Glendale California • Professor Patricia Pitcher, HEC • Robert W. Dean, Vice President, Business Development & International Space and Communications, The Boeing Company • Mr. Richard Legendre, Quebec Minister for Youth, Tourism, Sport and Leisure • Ron Mader, President and Founder of Planeta.com • Gabriel Ahad, Director of Communications, Canadian Internet Registration Authority •
Merci d'avoir visité cette page. Philip voudrait avoir vos idées sur ce qui rendrait votre temps plus profitable. Répondez s'il vous plait par e-mail en me tenant au courant de vos idées afin que l'expérience MBA_HEC soit des plus riches. Vous pouvez également envoyer vos suggestions et commentaires à l'adresse suivante :
send comments/suggestions by snail mail to:
Philip McMaster / MBA President / Hautes Etudes Commerciales /
933 Station H, Montréal,
Québec Canada H3G 2M9

PUBLICATIONS/ARTICLES : Philip McMaster

UPDATE: view the resautage "Global-E" network alliance of the master's prorgam members, designed to encourage learning and practising networking skills before leaving university.

More info on Canada's premiere "WIRED" business school